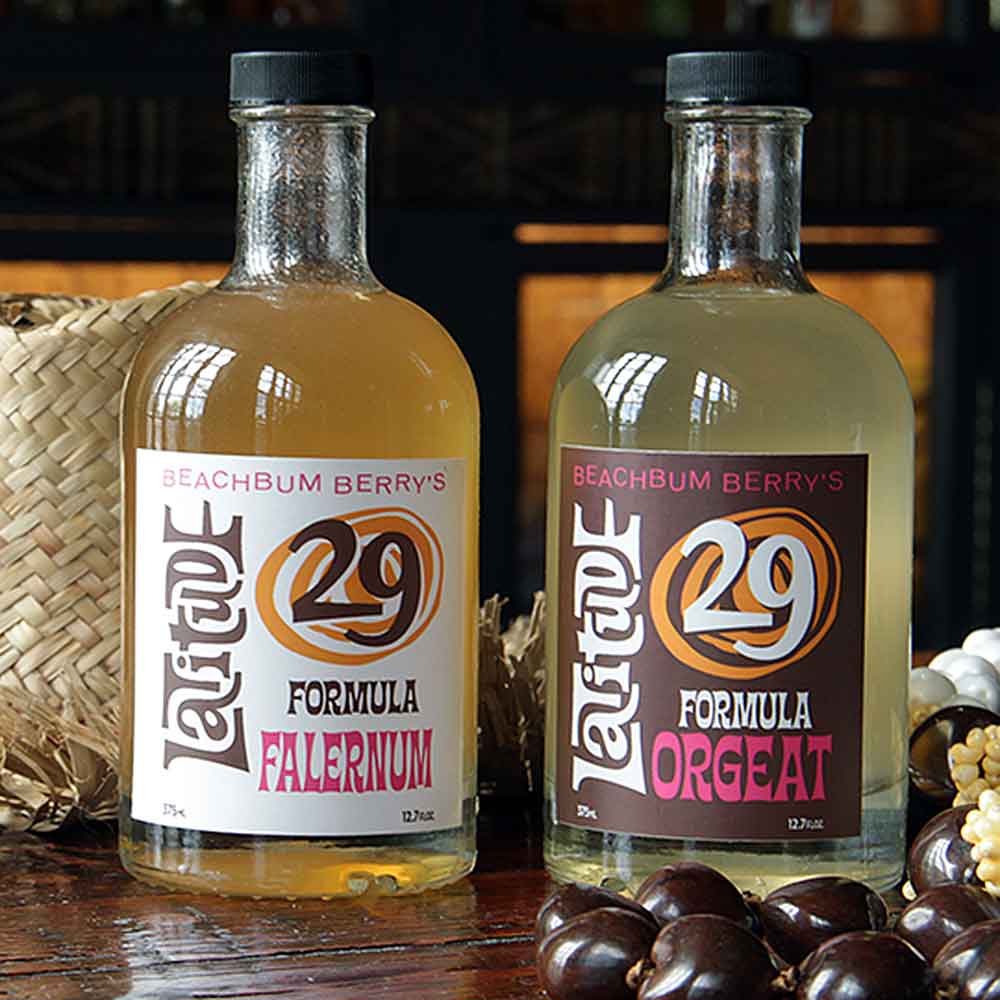 LATITUDE 29 FORMULA ORGEAT & FALERNUM
To develop the house orgeat and falernum for Beachbum Berry's Latitude 29, the Bum chose the Brooklyn-based syrup company Orgeat Works. Why? Because Tiki drink syrups are all they do, and they do it with love.
"Orgeat Works began out of necessity," says founder Adam Kolesar, a.k.a. Tiki Adam, who first fell in love with Tiki drinks at a rum punch seminar led by Dale DeGroff back in 2002. "The complexity of the drinks and the lore behind them captured my imagination. So did the challenge of acquiring obscure ingredients not so commonly available in the early 2000s. Even orgeat — a rich, fragrant almond syrup essential to Tiki classics like the Mai Tai and Scorpion —was hard to find to find in the pre-Amazon.com era." Adam's wife eventually tracked down an online source for him, so that he could finally make his first Mai Tai. But he was taken aback when the orgeat arrived "packaged in plastic bottles and filled with all manner of stabilizers, preservatives and high fructose corn syrup." Surprise led to depression when he tasted "the industrial, perfumed syrup, devoid of any trace of almond flavor."
Then and there, Tiki Adam decided that if he couldn't buy a good orgeat, he'd learn how to make one. He researched its origins, how it morphed from medieval French barley milk into a 19th-Century almond syrup enhanced with orange blossom water and rose water. He experimented with various types of cane sugar. He tried toasting the almonds before soaking and pressing them, to boost the presence of almond oil in the mix. And after many experiments, he finally had the flavor he wanted for the evening Mai Tais at his home Tiki bar.
Word of Adam's experiments spread among New York's craft cocktail bartenders. Before long he was making a bespoke toasted "T'Orgeat" for Prime Meats, a "Heavy Duty 50 Weight Orgeat" for Death & Company, and a macadamia nut orgeat for Julie Reiner's Lani Kai. More booze hounds came calling -- including the Beachbum, who'd heard rumors of Brooklyn's mad orgeat scientist and thought he just might be the guy to help him with the Mai Tai for Latitude 29.
OUR ORGEAT
"The Bum wanted to replicate the taste profile of Trader Vic's original 1944 Mai Tai," says Adam. "His position as the pre-eminent Tiki scholar would put his Mai Tai under close scrutiny by those in the know. He needed the perfect orgeat. I sent him several different unlabeled samples to blind-taste, and got feedback to make sure I could create exactly the flavor he had in mind. After a lot of discussion and adjustments, the Latitude 29 Formula emerged in its present form. It's been in use at Latitude 29 since day one."
This same orgeat is now available for retail purchase, so that home bartenders can use the best possible syrup for their own lovingly made Mai Tais. "Which," says Adam, "is really all I was looking for back in 2002."
OUR FALERNUM
With its bouquet of lime, clove, ginger and almond, falernum is practically a one-bottle Tiki bar. This aromatic elixir was invented in the early 1800s in Barbados, when Bajans made it at home by steeping lime peel, ginger root, almonds and cloves in rum. By mid-20th Century this folk recipe had been refined into a nonalcoholic syrup that became the secret weapon in mid-20th Century tiki classics like the Zombie, Jet Pilot, Cobra's Fang and Pukka Punch. The standard call back then was A.V. Stansfeld Genuine Falernum, which has been extinct since the 1980s.
After Adam aced his Latitude 29 orgeat, the Bum asked him to create a falernum syrup with the same lush, crisp, flavor-bomb character of A.V. Stansfeld's. Again, he delivered. At Latitude 29 we'd never make a Zombie or a Jet Pilot without it.
And now you can do the same at home.
BUY NOW (USA — Orgeat Works LTD)
Learn more: