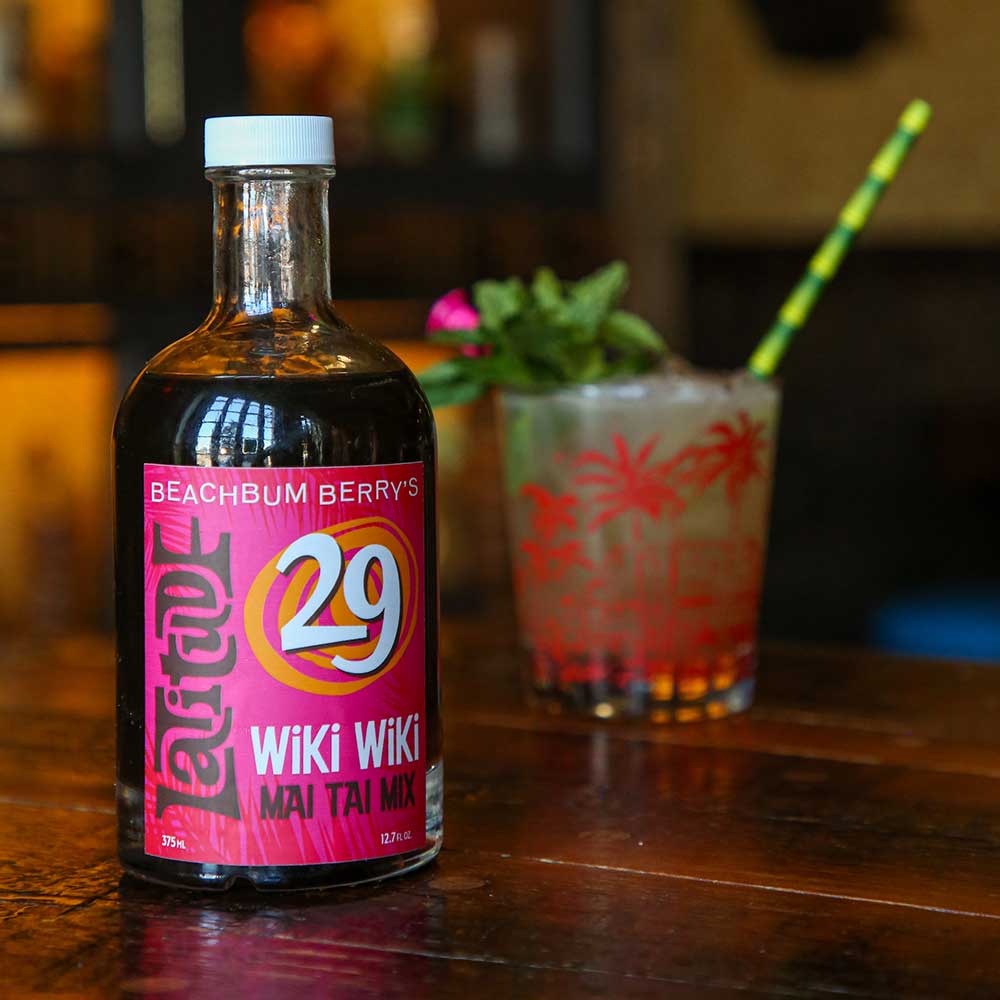 LATITUDE 29 WIKI WIKI MAI TAI MIX
In Hawaii "wiki wiki" means "quickly."  This bottle puts a classic 1944 Mai Tai in your hands wiki wiki, without sending you on a scavenger hunt for a proper Mai Tai's often hard-to-find ingredients: orgeat syrup, dark Jamaican rum, Martinique rhum agricole vieux, and Curaçao liqueur.
It's the culmination of exhaustive taste trials over a two-year period, resulting in a syrup infused with orgeat's almond essence, rhum agricole vieux's smokiness, dark Jamaican rum's woodiness, and Curacao's orange-peel bitterness.  All you need to add is lime juice and white Puerto Rican rum — which you can find just about anywhere, whether you're on the road or on a cruise ship.
Now Mai Tai connoisseurs miles from a well-stocked liquor store are no longer at sea. Even when they're literally at sea. Latitude 29 Wiki Wiki Mai Tai Mix "is quite good for travel scenarios where you can bring this and get some lime and rum at your destination," says Kevin Crossman of "The Search For The Ultimate Mai Tai" website.
Here's what other reviewers are saying:
THE NEW YORK TIMES: What if Cocktail Mixers Were Actually Good?
Garden & Gun: Mai Tais at Home, Made Easier
MILK PUNCH MEDIA: Best Booze Gift Guide 2020
The mix was conceived and developed by "Tiki Adam" Kolesar of Orgeat Works Limited in Brooklyn, with input from the Bum. After successfully launching Latitude 29 Formula Orgeat and Falernum, the duo decided on a Mai Tai premix as their third syrup collaboration.
"The Bum and I thought it would be great to have a flavorful syrup that would imbue a pedestrian, commonly available rum with the taste profile of something more complex," says Adam of what eventually would become Latitude 29 Wiki Wiki Mai Tai Mix. "It was important to both of us to build a product that would work decently with rums like the ubiquitous Bacardi Light as our baseline. That said, the end-user is certainly free to experiment with more complex rums and strike a more elaborate balance.
"The product certainly doesn't purport to be the ultimate Mai Tai, as every cocktail aficionado we know has a carefully curated spec. But it is meant to be a quality cocktail hack: a convenient but uncompromising blend of real ingredients assembled by hand to bring you a fast and easy, full-bodied and all-natural Mai Tai without the hassle that this normally entails."
RECIPES:
WIKI WIKI MAI TAI
3/4 oz Latitude 29 Wiki Wiki Mai Tai Mix
1 oz fresh lime juice
2 oz white Puerto Rican rum or other dry white rum
(Shake with ice cubes. Strain into Mai Tai glass filled with crushed ice.)
MOCK-TAI
1 oz Latitude 29 Wiki Wiki Mai Tai Mix
1 1/2 oz fresh lime juice
1 1/2 oz club soda or seltzer
(Shake with ice cubes. Strain into Mai Tai glass filled with crushed ice.)
VODKA MAI TAI
3/4 oz Latitude 29 Wiki Wiki Mai Tai Mix
1 oz fresh lime juice
1/2 oz club soda or seltzer
1 1/2 oz vodka
(Shake with ice cubes. Strain in to Mai Tai glass filled with crushed ice.)
OLD-FASHIONED
Teaspoon Wiki Wiki Mai Tai Mix
2 oz bourbon
2 dashes Angostura Bitters
(Stir until well-chilled in an old-fashioned glass filled with ice cubes.)
BUY NOW (USA — Orgeat Works LTD)