Beachbum Berry's Total Tiki Online
(for personal computers and mobile)
Total Tiki Online is the definitive reference and electronic tool for classic and contemporary exotic mixed drinks from historian Jeff "Beachbum" Berry!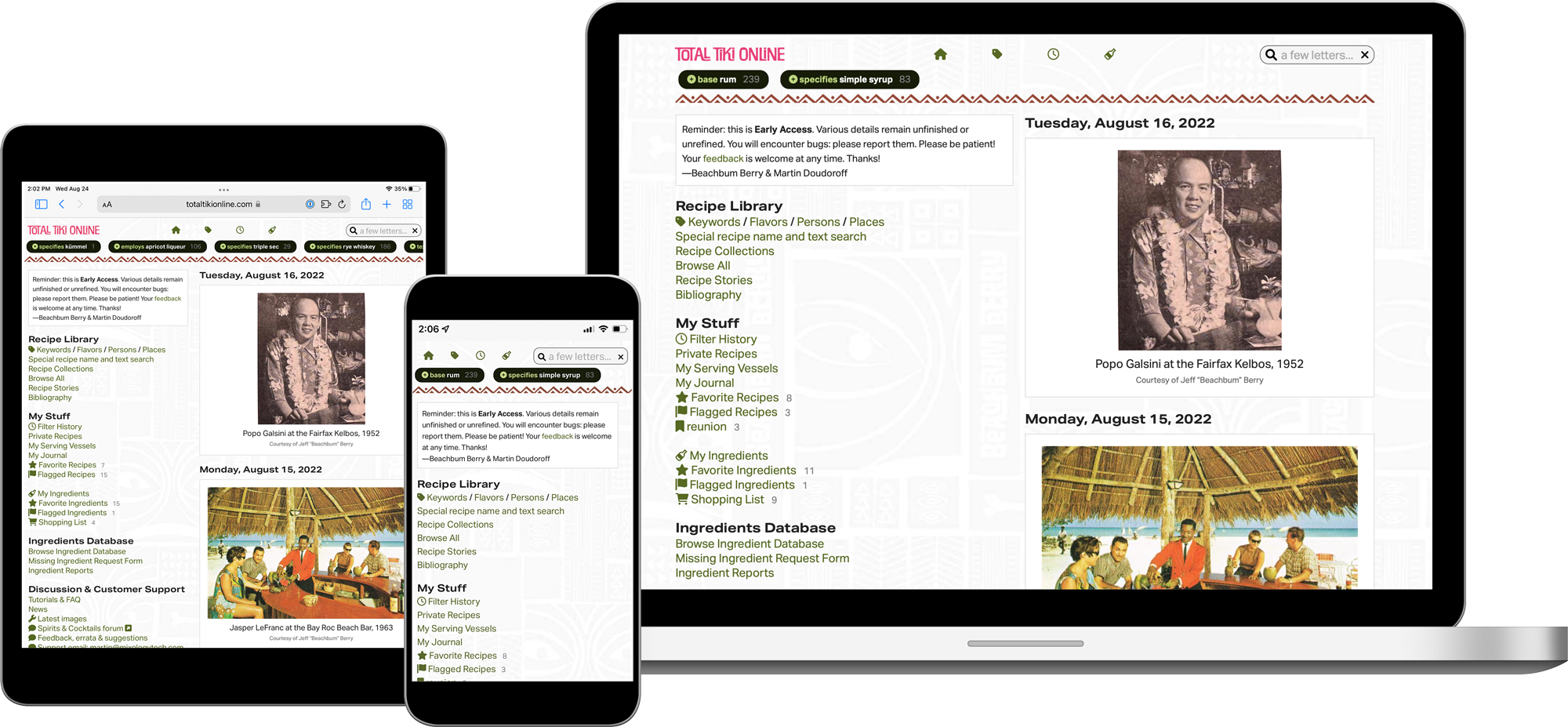 Features:
over 250 curated historical exotic drink recipes from Don the Beachcomber, Trader Vic, and many others, including the authoritative recipes for the Zombie, Mai Tai, and Scorpion, and scores of less famous, but brilliant concoctions from the heyday of the 1940s, 1950s and 1960s, as well as standouts from the 1970s–1990s, with more to come
over 60 delicious contemporary exotic drink recipes carefully selected from the "tiki revival" that began around the year 2000, with more to come
rare period and contemporary imagery from Beachbum Berry's collection, with a lot more to come
the perfect complement to Jeff "Beachbum" Berry's books, such as Sippin' Safari, Potions of the Caribbean, Grog Log, and Remixed!
data rich, with pictures, keywords, flavor clouds, and other data
unprecedented information management for the exotic drink aficionado:

smartly your ingredient inventory; you can even have multiple inventories for separate homes, vacations, or for planning events
find the drinks you can make with the ingredients you have in your inventory
annotate recipes with your own notes, including what you like and dislike for future reference
rescale recipes on demand to fit your glassware
calculate your pour costs
create handy lists of recipes and ingredients
calculate your ingredient needs for parties
enter your own private recipes and enjoy the same data-rich features of our curated content! (may carry additional cost)

access from any current web browser including your phone
If this sounds good, your next step is to create a free account, log in, and poke around. If you like what you see, the basic subscription costs around US$3/mo (quarterly or annually).
CREATE FREE ACCOUNT
Click here if you're wondering what the differences are between this (Total Tiki Online) and the famous Total Tiki app for iPhone & iPad
Below are video tutorials for the service that you're welcome to peruse for a detailed preview of what is offered: