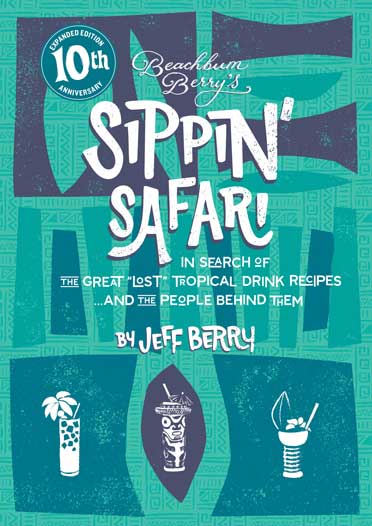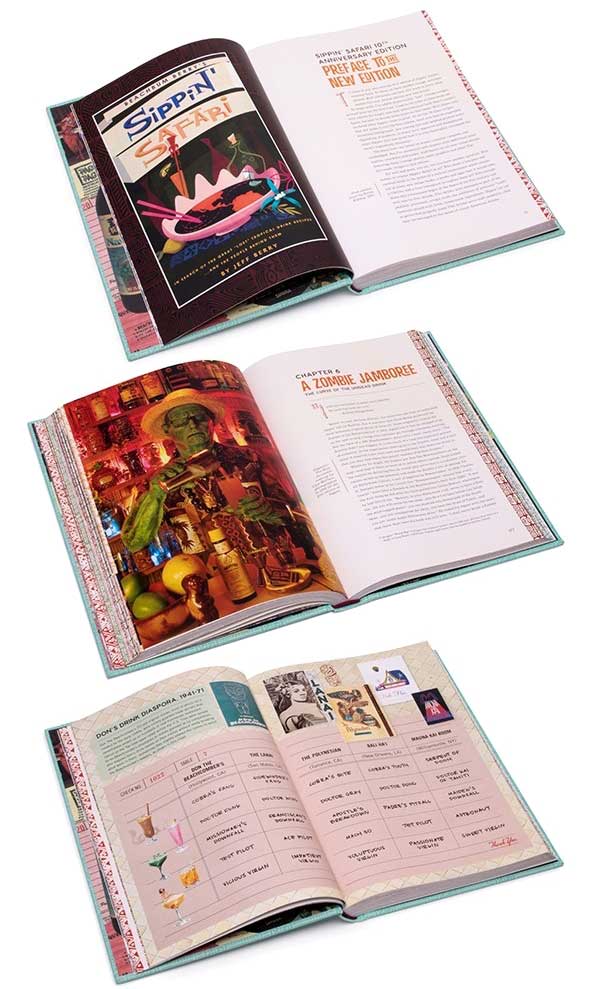 Sippin' Safari 10th Anniversary Edition
When Beachbum Berry's Sippin' Safari was first published in 2007, it ignited a global Tiki drink revival by revealing 69 top-secret recipes of Tiki's midcentury golden age, and the stories of the people behind them. This 10th Anniversary edition adds another 14 never-before-published classic cocktails to the mix, plus a 26-page preface detailing how the Bum discovered, decoded, and divulged the book's long-lost recipes. Also included: a new 29-page Afterward charting the Tiki Revival that Sippin' inspired, with contemporary recipes from the movement's leading lights across the U.S. and Europe.
This companion volume to Beachbum Berry's award-winning Potions of the Caribbean is completely redesigned, featuring rare photos and vintage graphics unique to this edition.
Culled from interviews with those who actually created the midcentury Tiki scene, Sippin' profiles both famous and forgotten figures of the Polynesian Pop era — people as colorful as the drinks they invented, or served, or simply drank. People like Leon Lontoc, the Don The Beachcomber's waiter who served Frank Sinatra and Marlon Brando by night, and acted in their movies by day; Henry Riddle, the Malibu Seacomber bartender who fed items about his famous customers to infamous gossip columnist Louella Parsons, till the day Howard Hughes found him out; and Duke Kahanamoku, whose manager turned him from Olympic champion into reluctant restaurateur.
"A trail-blazing tiki history … Adding an ironic touch to the Safari update is that the book itself was partly responsible for the tiki revolution that the new edition takes pains to address." — Robert Simonson, PUNCH MAGAZINE
Praise for the original edition:
"Publisher's pick! A well-written, profusely illustrated narrative of the people and bars responsible for the tropical drink craze that helped lubricate the '50s and '60s." — ATOMIC RANCH MAGAZINE
"Jeff Berry is single-handedly restoring respect to the tiki drink, which has for too long been a hipster joke. When these cocktails first appeared in the 1930s, they were complex, fascinating, and very tasty. The modern counterparts are all about the fruity juice and the little umbrellas. The spirits are an afterthought. Berry sets us straight on that -- the original drinks used complex aged rums -- and writes about the unsung heroes (mostly Filipino immigrant bartenders) who concocted and perfected these sadly forgotten drinks. Despite being a self-proclaimed beachbum, Berry proved himself to be a dogged great sleuth, with more than enough stamina to get to the bottom of enduring questions such as: what exactly was in the original Zombie (1934)? Added bonus: great photos and illustrations." — Wayne Curtis, author of AND A BOTTLE OF RUM: A HISTORY OF THE NEW WORLD IN 10 COCKTAILS
BUY NOW (Cocktail Kingdom)
BUY NOW (AMAZON)